Technical Information

Nisshinbo Brake's technological strength to realize "sensible brakes"
The three core functions of automobiles are driving, turning, and stopping. We supply a host of brake-related products that help vehicles to do the "stopping" part.
We are striving to enhance our technologies to realize "sensible brakes" that not only surely stop the vehicle but also give the driver a sense of security and pleasant driving.
Friction material production process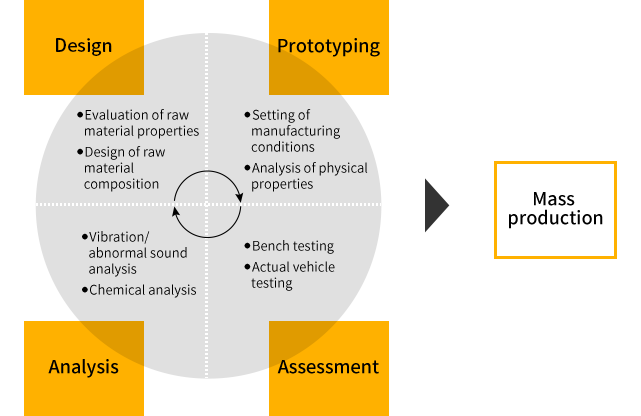 Raw material composition technology

A key aspect in the production of friction materials for brakes is the process that determines the composition of the material. We rely on an array of more than 100 types of raw materials, using a combination of about 20 for each specific product to achieve the optimum composition for the respective application, thereby minimizing the degree of vibration and noise.
Highly skilled experts and researchers with long experience and extensive field knowledge, sometimes working jointly with source material manufacturers, are developing and designing materials that are tailor-made for the respective usage environment. The result is friction materials that have received much acclaim around the world for their high level of quality.

Vibration and noise analysis technology

We employ an array of state-of-the-art equipment to identify the causes of vibration and noise arising in brakes and to devise effective solutions. Multiple dynamometers serve to recreate the automotive environment in which brakes are used. Many tests and validations are performed, and the data are analyzed using highly specialized techniques. This enables us to devise material compositions and changes in product shape that help to suppress vibration and noise. The superior quality for which we are renowned requires an extensive series of tests.

In-vehicle testing technology

Although tests using sophisticated measuring equipment are important, the human factor must not be neglected if one wants to realize "sensible brakes."
For this reason, we operate a testing facility for vehicles in Asahi City, Chiba Prefecture, where professional test drivers examine and analyze vibration and noise under real-world conditions. Quality checks that rely on human sensibilities are an important process supporting the high quality of our friction materials.